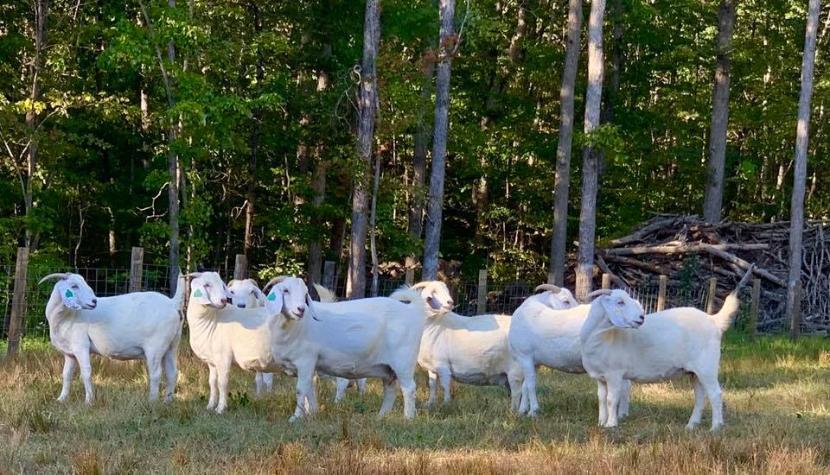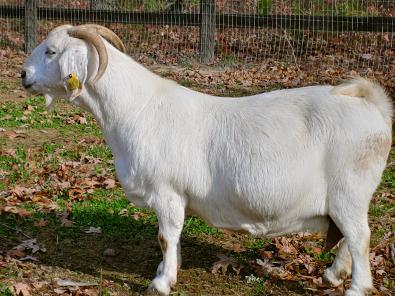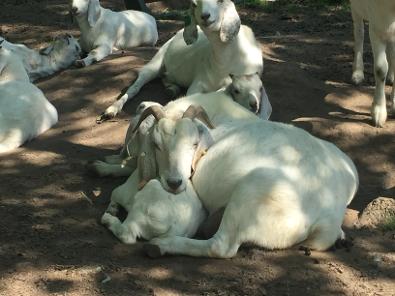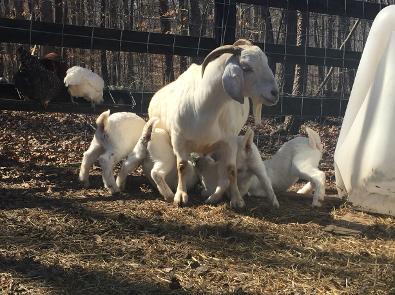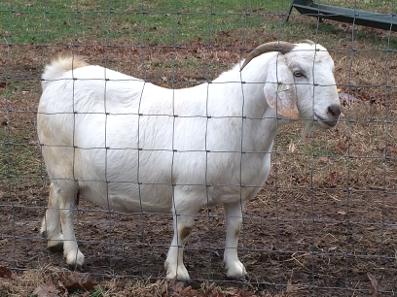 GCS

C-160 "PENNY"
Penny is tank/train conformation. Her offspring have had great muscling in each breeding year. In 2016, she was chosen for an embryo transfer project using semen from the original savanna import progeny JCS 35. In 2017, she was selected for the Y8 project. (Industry leading Herdsires: "Hercules, "King's Ransom", "Barricade") In 2018 she kidded twins using NJW Damascus. SH Heavy Metal and SH Angel are amazing. In 2019, she kidded quad females using WW E05's semen to kids each over 10 lbs. Her offspring have been impressive with quick growth rates, and quickly become the prize of their owners. Penny have become a living legend of production. Each buck that is chosen to cover her, the kids have been better than the parents. That is the mark of a great dam. Penny has 1x1 teats, long loin, and great mothering skills. She nursed and weaned the quad doelings last year with .41-.55 ADG without supplement (upper right). Penny has become the top producing doe of all time in the Savanna industry, with more than 35 registered offspring. Penny is a Rockstar!

I know what you are thinking… Yes, Penny will take your goat's lunch money.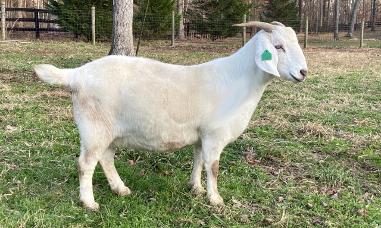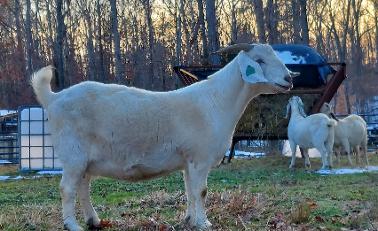 SH Y8'S KATIE
KRI Y8 had been a poster buck for us, when we became Savanna breeders more than 12 years ago. His picture was selected for many writings about the Savanna goat in various media. It was with great joy that we were able to find he had been collected by Nanette Brock in Texas. We collaborated with Nan to bring this top producer back to life with 3 projects. It would be no wonder that we retained 6 of Y8's doelings from our genetics work. We have found Y8 offspring to have good heartiness and parasite tolerance here in Virginia. SH Y8's Katie is out of Y8 and GCS Penny.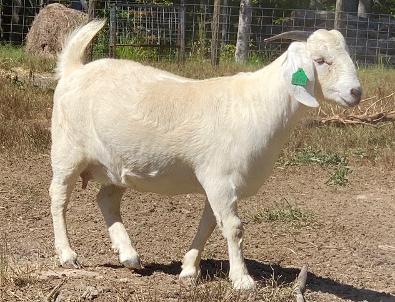 SH Y8'S SABRINA
Sabrina has nice pigment, good developing structure, and a great disposition. She has 1x1 teats, nice topline, and strong pasterns. We used her for a test breeding with SH Thunderbolt. She kidded twins in November 2019.
Sabrina was added to Mike and Allison's program at 3 Oaks goats in Texas.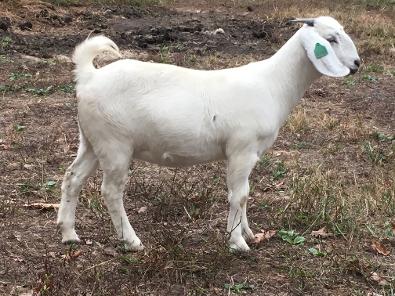 SH Y8'S EVELYN
Evelyn shown left at 6 1/2 months. This was the follow up project a year later than the first, using Y8 over Ireland (WW5 Daughter). This merging of the old lines together brought height and thickness. Roman nose and pigmentation are perfect. She is being groomed for future genetics work.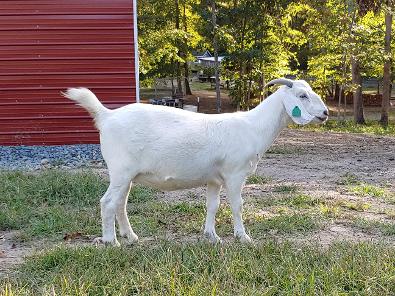 SH Y8'S CROWN JEWEL
We used KRI Y8 over Delilah for this gem. Jewel's fast growth rate, nice structure, and perfect pigment led to her selection in a project with the great SH Juggernaut. She was live covered and surprised us with a large production of embryos that exceeded our recip count, and needed to be frozen. We were able to program additional recipients and implant these embryos in September 2019.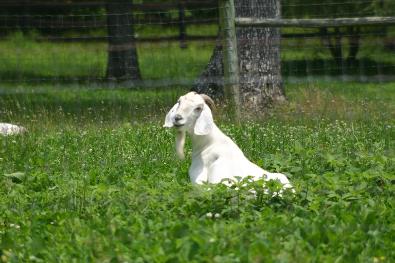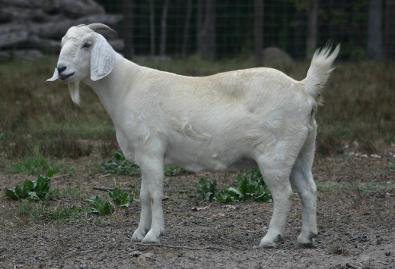 SH 152 WW E05'S IRELAND
She is a young daughter of the prolific WW E05 from Boney Winkler and Ty Williamson's (WW) original savanna program, and her dam is GCS Fiona (Brom Bones/X414 daughter). WW E05 is the son of JCS 16 and JCS 18, which were imported as live animals from South Africa. His kids are notably larger than their peer. Ireland and her litter mate "Caddy" are making big names in the industry.

In 2019 she was paired with Amorearts Z Kronos in an embryo flush project.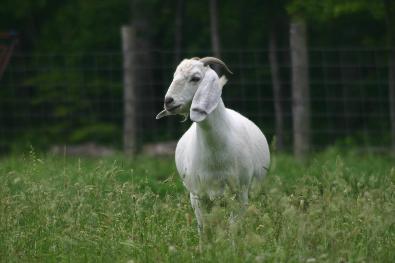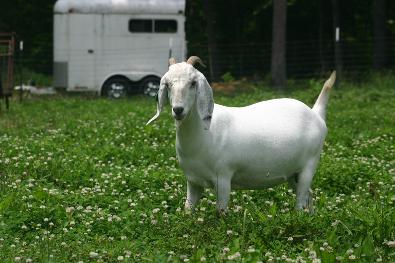 SH Millie
This sweet yearling doe sired by SH Nemesis with SH WW5's Ireland. We bred her this past June for November 2022 babies with our holdback sire "SH Eccentric Revenant". This is the fruit of the labor.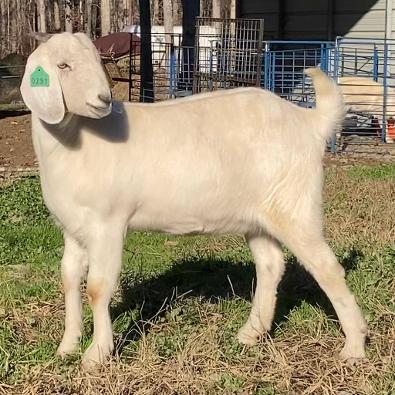 SH SELLECK
This yearling doe was the product of our fall 2019 project. Amoreart's Z-Kronos over SH WW5's Ireland. This was an amazing flush pair. Lanette has been following these kids progress from our customers across the country. SH Olympus and SH Poseidon are stand out sons.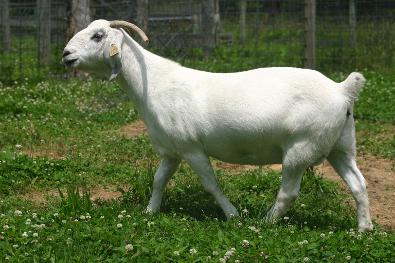 SOS CAT3

CAT3 got her name by deciding to be born during a Category 3 hurricane in Florida. The center of the storm destroyed her shelter. No worries, Cat 3 was up and nursing during the rain and wind. Linda Hughes was sure she and her dam had died, but found them alive and well the next morning.
SOS Cat 3 was a top weanling of Linda's farm, a perfect fit for us. It did not take her long to become one of our favorites. (SOS A151 over ITG B70)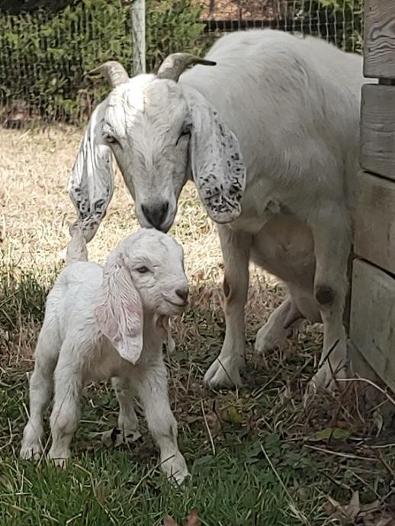 SH SCARLETT
Pictured here with her newborn wet daughter SH Hannah. This picture was featured in Sheep & Goat magazine. Scarlett is a SH Juggernaut daughter born in 2019. Her dam was GCS China, the daughter of Brom Bones. She ties into the Heatland flush line on the dam side and GCS Iron Man on the sire's side.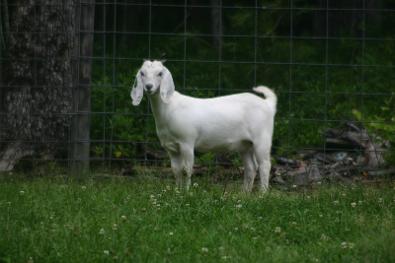 SH HANNAH
From the pic above, This December 2021 born gal is starting to grow up. Already published with a famous smile, she has developed nicely. We plan a spring 2023 breeding with her.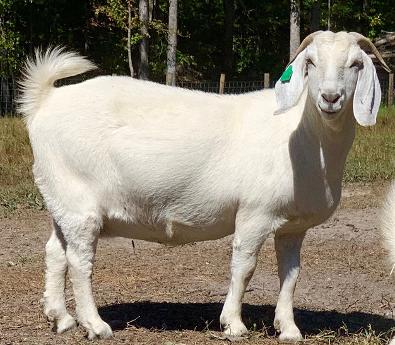 SH 154 SUZANNA
This doe was the product of Big Jim over Pansy. (Suzanna is Juggernaut's sister) We have been striving for increased size and conformation, and she delivers in both categories.
The test breeding using NJW Green 36 frozen semen with Suzanna, created two very nice doelings (SH Jeri and SH Carol). They were named after our mentors, Jerry and Carol Webb. Green 36 was one of Jerry's favorites.
Suzanna is a meat-wagon.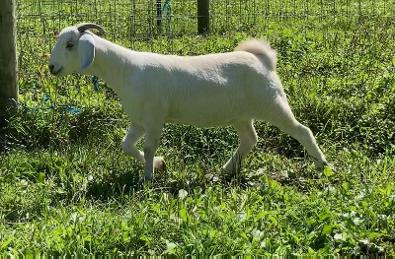 SH SUZIE
Suzie was born in April 2021. We used our prospect buck "SH Piledriver" over top proven doe GCS Pansy. Pansy has delivered large kids for over 9 years. That Iron man line has been successful year after year.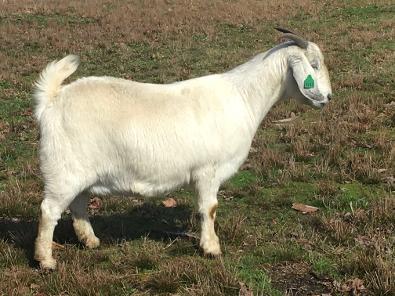 SH JCS 55's ZEUS' APHRODITE
Aphrodite shown left at 13 months. She is the daughter of JCS 55 Zeus and TTS 825 "Boss". She is the sister to JCS 55's Thunderbolt. Just like Thunderbolt, she has tall frame, nice hip and is long in the loin.

Zeus' offspring were top performers in early savanna breeder's herds. This reputation has led to the demand for Zeus progeny offspring

.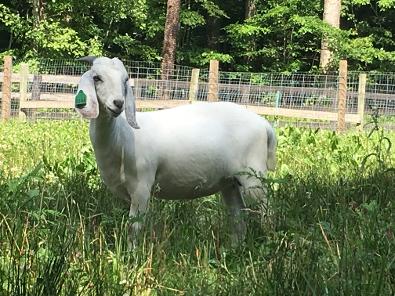 SH GEORGINA
Georgina shown left at 9 months. She is the daughter of a test breeding with PJT Little Georgie and SOS Mercedes born in 2018. Georgie spent almost a year on our farm before heading to Tennessee. Mercedes is a cross of early MGF and ITG breeding. Georgina has 1x1 teats, nice top line and good height. We used Georgina with a breeding of frozen semen from NJW Green 36.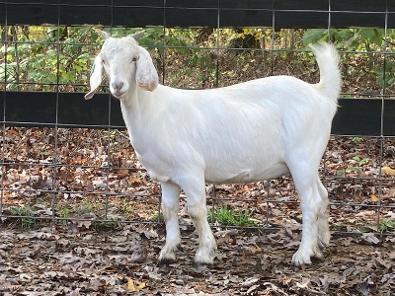 SH PIXIE
Pixie is the creation of old bloodline semen of NJW Green 36 put with our top project doe SH JCS55's Aphrodite. Aphrodite caught the eye of Brooks Klein for use in his genetics work in North Dakota.
Pixie bred late June 2022.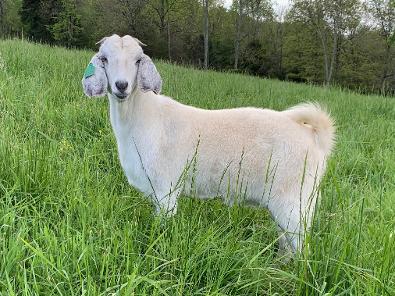 SH ASHLEY 266
Born in 2019, this doe is sired by SH Tornado and TTS 825 "Boss". Ashley has 1x1 teat structure, nice top line, total black skin under her coat, and a balanced appearance. The JCS 35 bloodline over Boss delivered the goods here.

Ashley is now with Eric and Michelle Martin in TN.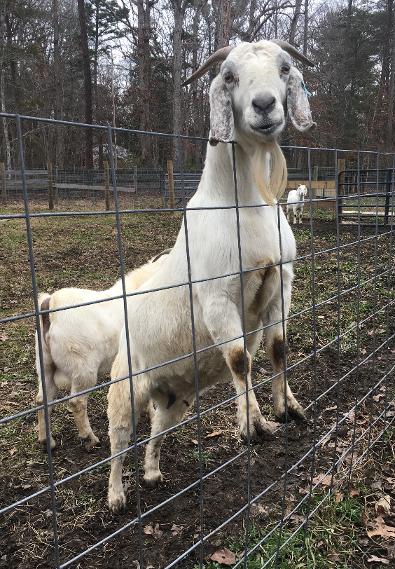 TTS 825 "BOSS"
Tim and Teresa Swain (TTS) were early Savanna breeders in North Carolina. They had access to many of the best genetics, and diligent in using DNA within their program.
This old gal has 10 years of proven performance. She has averaged 2.1 kids/year. She has lived on farms in NC, Iowa, and Virginia facing various climates and management. "Boss" was sired by rare line NJW Orange 16. Genetic heritability of traits will vary, but you can see why we acquired her.
She is tall, thick, long, big cannon bones, strong pasterns, wide chest, 1 x 1 teats, totally black skin under the coat, while meeting full breed standard. She is a stand out in the industry. I would normally not select a pic standing on the fence, but its her favorite position, as it showcases her undercarriage and enthusiasm. She is the Boss!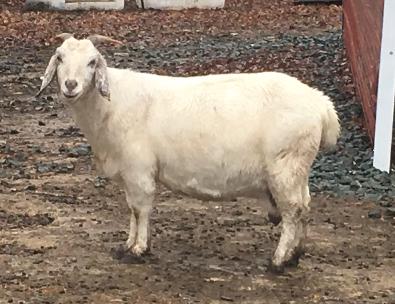 3DS CARISSA
This girl was bred by Leo Deutsch in Oklahoma. Her sire was 4C 2010 "Bull" , DNA verified. Her dam is 3DS Carly, Leo's wife's favorite doe. Carissa has a strong top line, good length in loin, strong pasterns, dark pigment, and a deep chest. She weaned twin boys in 2020 with .48 ADG; kidded triplet girls in March 2021.
Carissa's daughter-lot 37, was one of the stars, selling for $3700 at the 2020 Savanna Spectacular auction for her last owner.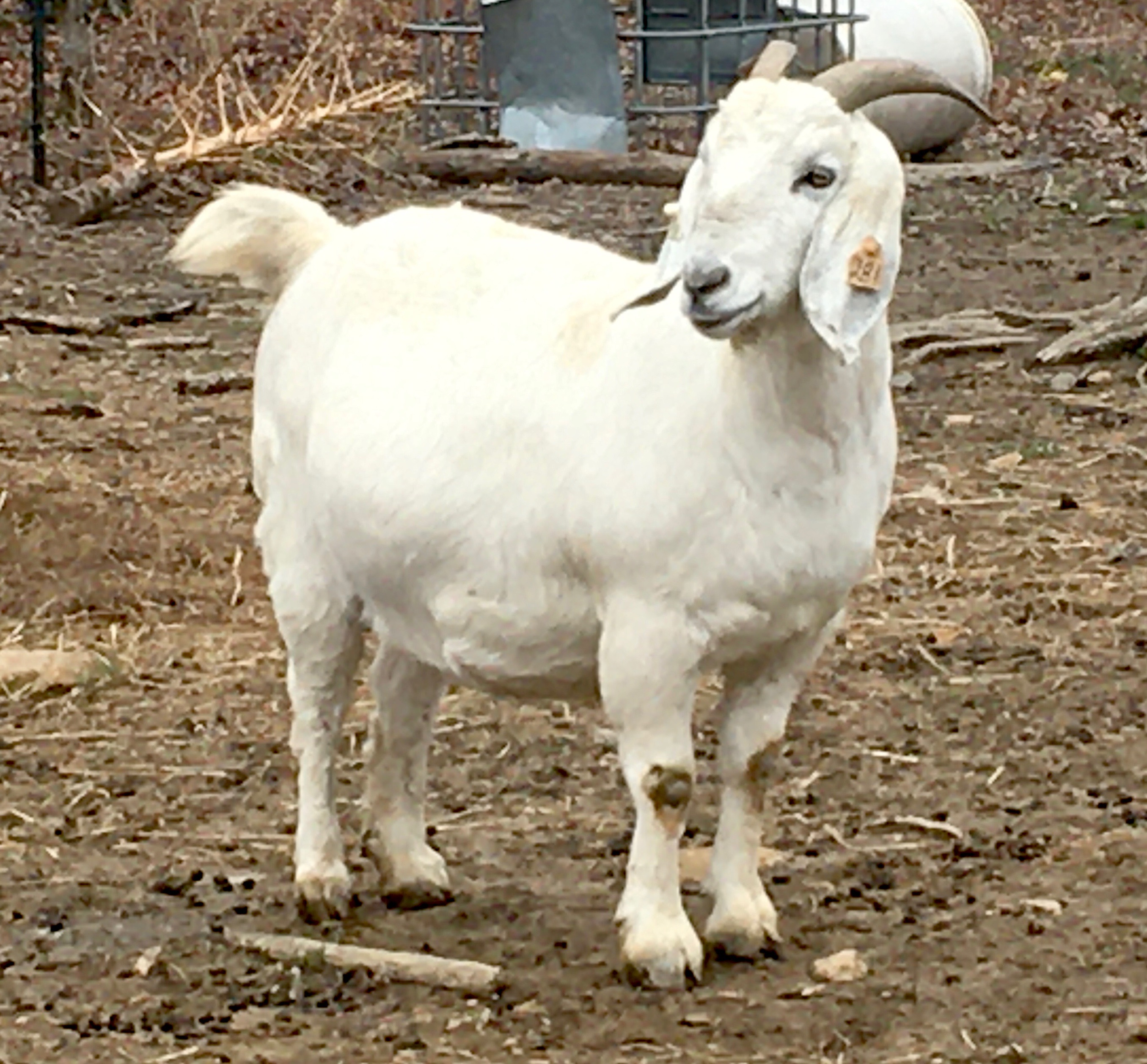 GCS CHINA

China is a daughter of NJW Sleepy Hollow's Brom Bones. Brom's daughters have been coveted by anyone who was lucky enough to get one. China's dam is X414 (Herd 5), a product of the Jay Heatland flush. This line has been one of the fastest growing and heartiest of its era. China and her sister Fiona, have been selected for projects using rare semen to bring height and heartiness to older lines.
SH WW5's Cadillac (Caddy) in TN and SH WW5's Ireland here in Virginia are litter mates from an Ai project of this Heatland progeny.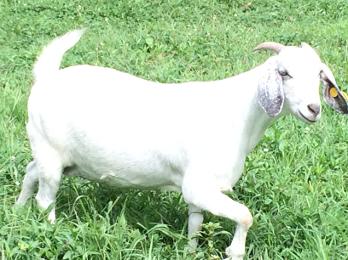 GCS C159 "MACY"
Macy's old line genetics has been making kids with very nice conformation. Her Dec 2016 son "Spitfire", sired by Big Jim, is on the way to being an elite herdsire with Suzanne England in South Dakota. Dawn Steiger (Mincey) once called us after noticing her picture. Dawn said "I collect antiques" and inquired about her breeding. "She is from your buck Goliath", we said. Dawn has a good eye for goats.

Her pedigree is heavy KRI 522 Goliath on the top and 4C W118 "Big 2" on the bottom.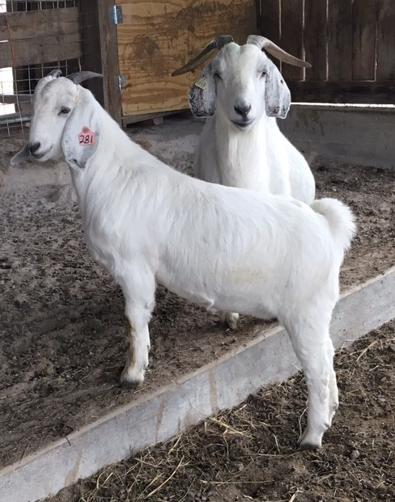 "X414" (HERD 5)



Pictured left at 6 years old. This lady turned 11 years old in 2019. She was the offspring of Jay Heatland's flush of their best doe WW D01 in 2007. Both of WWD1's Parents were born in South Africa, imported as live animals by Jurgen Schulz. "Herd 5" has produced a line of kids that have outlived their peer with great output. Herd 5 and her sister (414B) have become the most valuable does in industry with their kids bringing top dollar as seed stock sales.
WW farm (Tye Williamson/Boney Winkler) were original purchasers of Savannas at the Kifaru sale in 1998. This dam has produced some of the best goats in our industry. Her son, Prettyboy Floyd and her daughters, GCS Fiona and GCS China (shown at weaning- upper right), have impressed everyone who has seen them. This has been a very desired bloodline to use with older semen in genetics projects.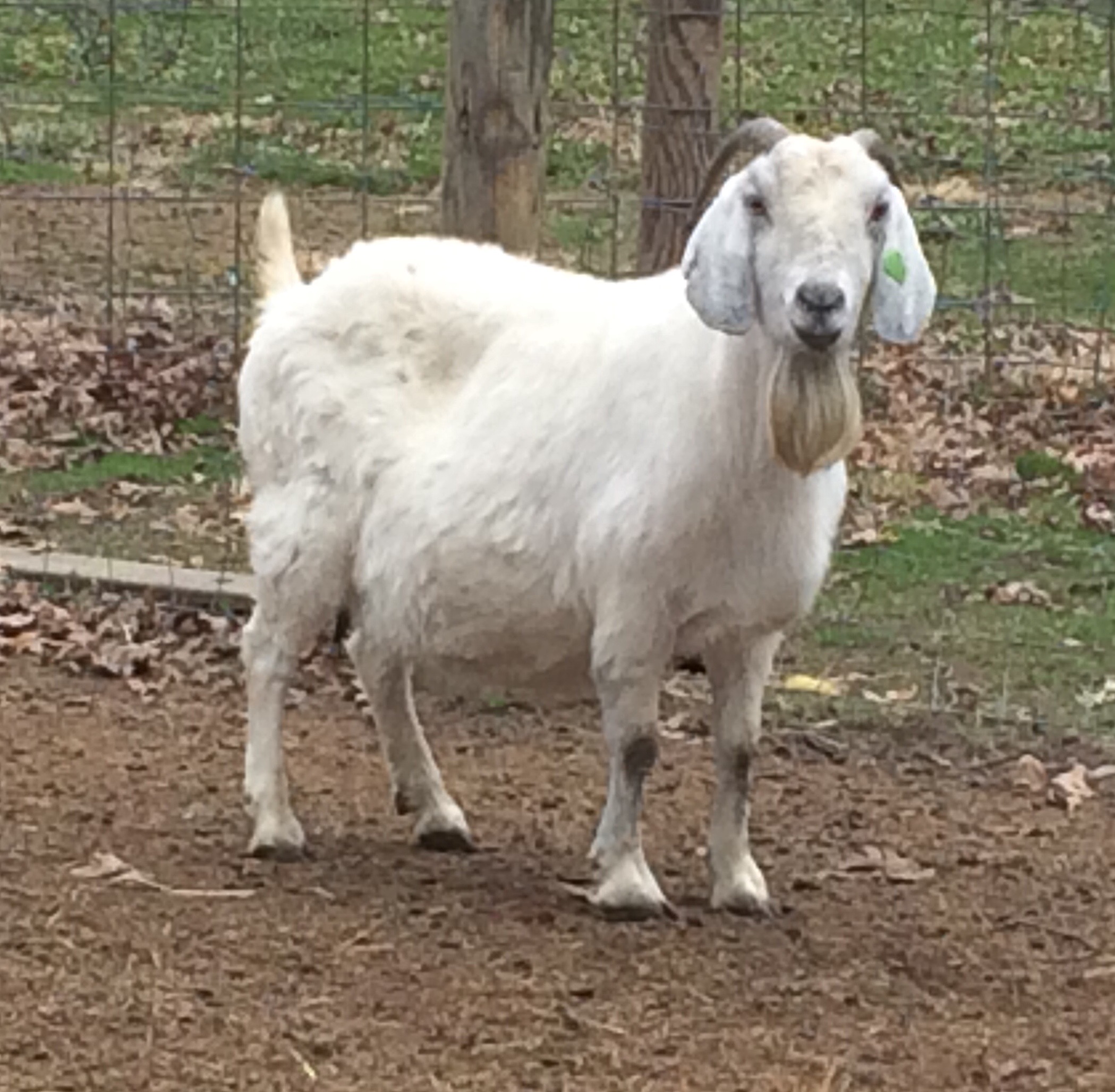 AMOREART'S ROSE G7119
Denise Peterson's import of Savanna embryos from South Africa in 2001, is one of only four sources of genetics here in the USA. Denise's Amore Arts Goat farm in California, with complete DNA histories, has helped preserve the SA Savanna's integrity and breed conservation. This old lady (born in Feb 2008) has been a top performer for a decade as well. She was a favorite of the Peterson family, Jennifer Wall, as well as ours now. It's hard to find proven genetics this rare.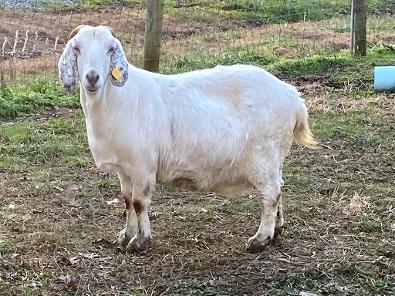 GCS C-182 "PANSY"

Pansy is an "Iron Man" daughter. Her pedigree traces to Brian Payne's embryo import KRI S506 from the Konie Kotze' herd in South Africa. Iron Man progeny have been rising to the tops of breeders programs making his offspring more and more valuable. The loss of Iron Man without semen collected, is a loss to us all.

Pansy was used in the 2016 live cover flush with "Big Jim". Wide chests and long in the loin are her kids attributes.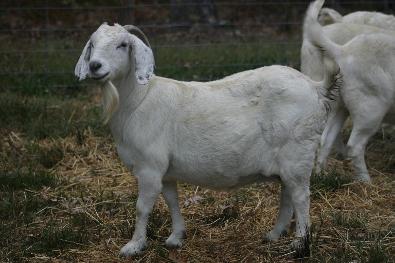 RSR FB4
This old gal turned 10 years old this year. She was the last breeding of Dawn Steiger (Rising Sun Ranch) before she downsized her personal herd. KRI 522 Goliath was her favorite buck and FB4's sire. He made very impressive kids. FB4 has travelled the south, fighting both dogs and coyotes, losing part of her ear, but protecting her kids. A decade of reproductive output that would be hard to match in any program. Her chest and hip have nice muscling for a female. She has clean 1x1 teat structure and totally pigmented skin. She is a total package of heartiness with great mothering skills.
Her son, SH Nemesis and daughter SH Belinda are impressing our customers with their kids.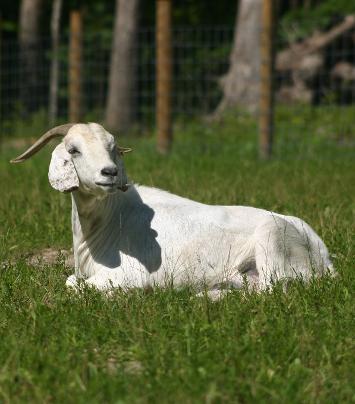 GCS A126 DELILAH
This old gal, Delilah, is the daughter of X414's sister (X414B). Her sire is Big 2. Delilah has been a top producer for almost a decade. We select does that have displayed survivability over long periods of time with consistent birth rates. We believe "being alive" and making quality babies for a decade, is an important measure of performance during an era with limited production data. Her offspring were retained because they are thick, hearty, and strong producers. SH Juggernaut and Delilah were used to create our monster buck SH Brass Knuckles.